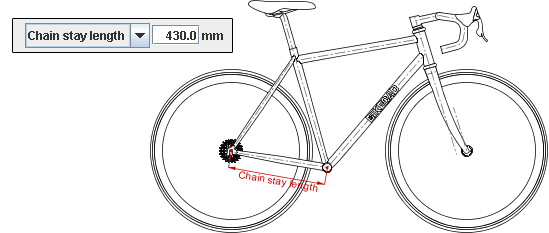 In the Primary dimensions dialog box (which is accessible by clicking this icon

) the rear end of the frame can be controlled by directly inputting the desired length of the chain stay or by specifying the desired gap between the rear wheel and the seat tube.
When specifying the Rear wheel gap, be sure to check that the rear wheel diameter in the BikeCAD model matches the wheel diameter you plan to use with the bike. There can be a lot of variation in wheel diameter from one brand and model of tire to the next.
The animation below shows how the Rear wheel gap option can be used to ensure that the chain stays will automatically adjust to account for changes in BB drop, seat angle and wheel size. Although it is not shown, this option is also useful for maintaining a constant spacing between the tire and seat tube when changing the seat tube diameter.